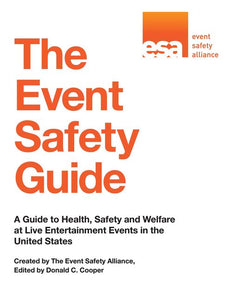 The premier safety guidebook for anyone working in the event industry.

The Event Safety Guide is the United States' first published safety guidance directed specifically at the live event industry. Culled from existing life safety standards and the insight of top professionals within the event industry, The Event Safety Guide compiles the best operational practices currently available in the live event industry in a single easily referenced manual.

The guide is not a "how-to book" or a complicated set of standards. Rather, it is intended to help busy industry professionals know what safe workplace practices might be, heighten their understanding of the importance of safety in everything they do, and apply these best practices in their daily work.

Designed for field use, The Event Safety Guide is categorically organized and written in straightforward and easily understood language. Thirty-nine chapters and five appendixes address a broad range of subjects relevant to most events, including emergency planning, weather preparedness, and fire safety, as well as specific technical issues such as pyrotechnics, rigging, and temporary staging. Included appendixes provide additional resources, including helpful planning checklists and information on the National Incident Management System (NIMS) Incident Command System (ICS). All referenced standards are thoroughly cited within the text to ensure readers know precisely where to turn for additional information.

Whether you're a seasoned veteran or just starting out in the event industry, you'll find The Event Safety Guide to be an indispensable reference when planning your next event.
Note: Downloading this file will add you to the ESA's email distribution list. Your contact information will be used exclusively for the distribution of safety-related information and guidance, and will not be sold or provided to third parties for any purpose without your direct permission.